James Henry St Hill
The original Fernside estate, consisting of over 2300 acres, was created in 1860 when the Hon. James Henry St Hill, Wellington resident magistrate, secured a crown grant from the government. James was born in Jamaica in 1807 and trained as an architect in London. His father, Charles Henry St. Hill, came from an old family from Bradninch, Devon, and was an ordnance store keeper for British army bases around the world, including Jamaica, Ceylon and Hong Kong. James came to New Zealand in 1840 as a result of his friendship with the Wakefield family. On his death in 1866 the Fernside estate was sold to Henry Bunny.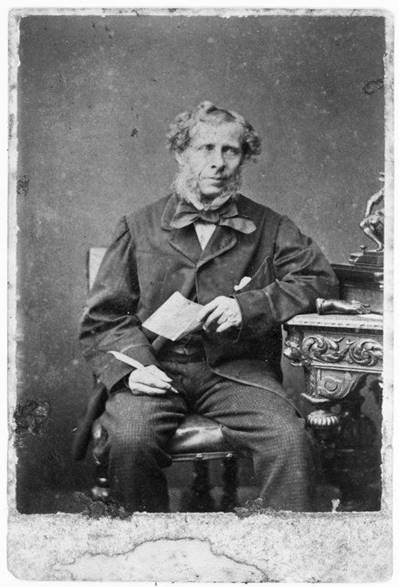 James Henry St. Hill
Henry Bunny MGA
Bunny came to New Zealand in 1854 from Jersey and held a seat in the Provincial Council becoming its Treasurer. In 1866 he was elected as representative for the Wairarapa and held the seat until 1884. Henry Bunny already owned the Longwood estate in Featherston when he bought Fernside, but it is apparent that the latter was his home in the homestead, which was then located along Underhill Rd. A newspaper reports his second marriage to Bessie Thorne in 1867 describing him as "Henry Bunny esq. MGA of Fernside, Wairarapa". Their son was born at Fernside on 12th January 1870 only 6 days after Henry's eldest daughter Katharine, by his first wife, had married Thomas Shapter at the homestead. Henry Bunny sold his estate at Longwood to Charles Pharazyn in 1871, and in 1876 he sold 1134 acres of the Fernside block to Richard Barton of Pirinoa for £15,000.
In 1891, following the premature death of a son, and his defeat in the general election, Bunny committed suicide by shooting himself in the Town Board Office in Featherston.
.
Henry Bunny
Richard John Barton
The next owner was Richard John Barton, the third son of pioneer Richard Barton who settled at Trentham, Upper Hutt, in 1841, and brother of William Barton living at Fareham House also along Underhill Road, Featherston.  Not long after his purchase of Fernside in 1876 Barton became seriously ill with tuberculosis and travelled to Sydney for its drier climate. Restored to health he returned to New Zealand.  However, the following year in 1879, he suffered a relapse, succumbed to the disease at Fernside, aged 33 and was buried in Featherston. He left two daughters, Ida and Eva, by his widow Catherine, daughter of pastoralist Charles Bidwill of Pihautea, who continued to live at Fernside. In 1881 she married George Hutton and in 1886 they moved to Napier, leaving Fernside under lease to Charles Elgar. Two years later Charles purchased most of the estate - except the homestead with its surrounding acreage on Underhill Rd. The house burnt down not long afterwards.
Charles and Ella Elgar
Charles Chapman Elgar was born in 1854 in Deal, Kent. His father, William Spratt Elgar, was a pilot of the cinque ports, around the southern coast of England, and later boatswain of the NZ Ship Company's Tory, on its voyages to New Zealand in 1839-40. Eventually William became a ship's captain around NZ waters, but retired to Deal where he died.  In 1873 Charles Elgar, in his late teens and on the advice of his father, emigrated to NZ and studied engineering at Canterbury University. By the early 1880's he had become farm manager for Charles Pharazyn of Longwood, but leased Fernside for himself, and finally purchased it in 1888. In 1890 he married Charles B. Pharazyn's daughter, Ella, and the couple settled at Fernside where they lived during summer months but spent winter in Wellington to avoid the coldest weather. Charles was a pastoralist in his own right, owning other sheep stations in the Wairarapa such as Awa Awaroa and Awhea in Featherston and Clay Creek near Martinborough. Fernside was a mixed farm, running cattle, sheep and horses, as well as growing oats. The Elgars referred to it as "the town block" owing to its proximity to Featherston.
The year following their marriage a daughter, Enid Awa, their only child was born. Awa, the Maori name for river, was given to commemorate the completion of 3 miles of water races, which Charles engineered from the Tauherenikau River to supply Fernside. The race fed the lake, which is known to have been in existence in 1899 when Enid and a friend are recorded swimming in it, although it was probably constructed long before then.
The Elgar's first homestead at Fernside
Despite the advantages of being a member of one of Wairarapa's oldest and wealthiest colonial families, Ella Elgar's early life had not been easy. Her twin sister, Ida, had been killed at the age of eleven in 1880, when the train carriage the twins were riding from Wellington fell off the tracks at 'Siberia' on the Rimutaka incline. Ella herself, sustained serious head injuries. Then, three years later, while the family was overseas in Florence, her mother died of consumption.
Prior to his marriage to Ella, Charles built a new homestead at Fernside, and in 1907 it was substantially enlarged to form a mansion of 24 rooms covering 6000 sq feet. This was funded by the profits Charles Elgar made both from wool production and the export of refrigerated lamb carcasses to Britain. Elgar was a man of shrewd business acumen, becoming a Director of the Wellington Meat Export Company, Director of the Bank of New Zealand, Fellow of the Royal Colonial Institute, Chairman of the Wairarapa South County Council, Vice-President of the Wairarapa Pastoral and Agricultural Society, as well as serving on local education and roads boards. He took a keen interest in sheep breeds and all things agricultural. At the outbreak of the First World War Charles and Ella happened to be in England where they stayed for the duration, and Charles was appointed Commissioner of the NZ Red Cross to support the NZ war effort in Europe, in particular organizing hospitals for wounded New Zealanders and Red Cross parcels.
The Elgars were well travelled and made several trips overseas to England, Canada, the States, Japan, China, Egypt, Ceylon and Australia. Ella was a socialite, and the family enjoyed a busy round of high society engagements and participated in golf and croquet tournaments. They attended balls at Government House in Wellington and entertained many guests at Fernside, including various Governor Generals and their staff. Lord Bledisloe claimed that Fernside was his "favourite New Zealand country home" because of its elegance, appointments and delightful garden setting.
In 1909, following a trip overseas to stock up on the latest fashions, Enid made her debut, and a dance was held in her honour at Sayes Court in Wellington. Her father, with whom she enjoyed an affectionate relationship, also partnered her in various golf and sporting activities in the following months. A year later, Enid was engaged to marry Capt. Gilbert Hamilton, aide-de-camp of the then Governor General, Lord Islington. Gilbert was the son and heir of Lord Claude Hamilton, younger brother of the Duke of Abercorn, thus well connected to British aristocracy of the day. It has been suggested by family members that Enid was pressured into the match by her mother, eager for the social triumph of an aristocratic connection, and that Capt. Hamilton was only interested in Enid for her money as heiress of wealthy parents.
The marriage was a rushed affair, ostensibly brought forward owing to the illness of Capt. Hamilton's mother and his desire to return to England as soon as possible to see her. Enid looks miserable, thin and wan in her wedding photograph, a marked change from the photograph of the healthy-looking girl taken two years earlier.  The couple spent their first night at Fernside, and then set sail for England. She was said to have contracted tuberculosis on the trip there, but it seems likely that she was already ill by her wedding day.  Probably owing to Enid's ill health and Gilbert's frequent absences on military duty, they never had children, and in 1916 she died of tuberculosis at the age of 25 while staying in Sunningdale, Berkshire. She was buried in the Elgar family plot in the churchyard in Deal, Kent. Although Gilbert Hamilton, by then Colonel of the Grenadier Guards, remarried six months later, he stayed on good terms with his in-laws and visited them in New Zealand.
Enid Elgar 1909 aged 18
Ella Elgar and Col. Hamilton in London
Shortly after the end of the war, the Elgars returned to Fernside. Further tragedy struck in 1923 when their house at Fernside and all its contents, consisting of antiques and furniture the couple had amassed on their travels, caught fire and burnt to the ground. It was reportedly caused upstairs by a maid who left a kerosene heater burning while ironing while the Elgars were visiting a flower show in Wellington.  Turning misfortune into an opportunity, the couple promptly engaged a young friend, Heathcote Helmore, a former aide-de-camp of Lord Islington, and recent pupil of Sir Edwin Lutyens the notable British architect, to design a new house for them. They then departed overseas for a year, while it was being built, to acquire antiques with which to furnish it.
The house as it stands today was designed in American Colonial Revival style, with a Georgian layout and interior. Obvious Lutyens features include the massive steep roof and tall chimneys, which were damaged during the 1942 earthquakes and had to be reduced. No expense was spared in its building – the weatherboards are of heart rimu milled from the Fernside estate, the roof is Welsh slate, the gutters are cast iron, ground floors are American oak, first floors Australian Jarrah, and the west porch and sun room roofs are sheathed in copper. Although large by most standards at nearly 10,000 sq feet, the layout of the house is such that it still works as a modern-day family home, but Ella and Charles had the luxury of 16 staff on the estate in its heyday.  Unusually for the time, it was built with four ensuite bathrooms, and as an added luxury it had the first elevator to be installed into a private home in New Zealand.
The gardens were also redesigned to allow for the new layout and orientation. The garden is unique, having an English Arts and Crafts country house layout in the style of Lutyens, but with additional touches of Japanese water garden, and Australian and New Zealand native forest interspersed. Its effect is an appealing fusion of Old and New World, and a reflection of places the Elgars had visited on their world travels.
According to a 1934 plan of Fernside, the water gardens consisted of an integrated complex of a lake with a water rill descending from it, leading to a typically Lutyens shaped pool and a sound shell. The lake was also associated with two very large rectangular lily ponds and three other ornamental pools, waterfalls, weirs, several bridges, a swimming pool, bathing house and boat shed. Also placed in strategic positions were stone benches and statues, including a bronze of the winged Mercury in the rose garden which disappeared in the 1980s.  The gardens became a perfect venue for garden parties, social and fundraising events.
Charles and Ella Elgar in the rose garden
Many varieties of trees have been planted over the years, including oaks, elms, chestnuts, maples, ash, willows, planes, swamp cypress, poplars, prunus, birches, beeches, eucalypts, lindens, pines, macrocarpas, rhododendrons, magnolias, camellias, heritage fruit trees, (including mulberry), as well as a great variety of native species – including kahikatea, kauri, rimu, totara, kowhai – which now support abundant native bird life.
Ella Elgar with Muffy
In 1930 Charles, a keen but unsuccessful breeder of racehorses and frequenter of the racetrack, died suddenly of a massive heart attack at the Tauherenikau races.  He left his wife an estate worth a quarter million pounds. Ella lived on at Fernside, overseeing the farming business, but continuing to take a keen interest in social life, as well as frequently travelling overseas. In 1936 she imported a Rolls Royce from England, the chauffeur of which lived in the Gatehouse. He later married Ella's lady's maid.
At the outbreak of the Second World War Ella offered Fernside as a convalescent home to the Red Cross Society, with the intention of moving into a cottage in the grounds, but the offer was never taken up. By 1943, whether alarmed by the two earthquakes of 1942, or the construction of the Japanese Prisoner of War camp nearby in Featherston, she moved into a luxury apartment in Christchurch, where she died on 23 August 1945. She lies buried beside her husband and twin sister, Ida, in Featherston cemetery.
In her will she bequeathed her best period furniture, some dating back to the sixteenth century, to the Dominion Museum, on condition it followed specific instructions for their display. Some of these are still on view at Te Papa.  An auction by Dunbar Sloane at Fernside, held over two days, sold off the rest of the contents of the house, realising £11,000. Apart from legacies to members of the family, she left generous bequests to her farm managers at Clay Creek and Kahautara, Edward and Benjamin Mellish her gardeners, and servant, Jean Hannan. Another lasting legacy was Fernside which was held in trust for four years during which time it was leased to the US Government under the aegis of the American Envoy Extraordinary and Minister Plenipotentiary, Avra M. Warren.
U.S. Government
In 1949 the estate was carved up, and the house and 54 acres was sold to the US Government for £12,000 as a country residence for the American ambassador. The right of water intake from the Tauherenikau River into the Fernside water gardens was guaranteed by the NZ government to the United States of America, and its successors, in the deed of sale signed by the then Finance Minister, Walter Nash.
The US ambassador Robert M. Scotten and his wife resided at Fernside between 1949 and 1955 and it was here they entertained their overseas guests, including John Foster Dulles who came to NZ while negotiating the Australian, New Zealand, Philippine, and Japanese security treaties in 1950 and 1951. Scotten often commuted between Wellington and Fernside by plane, landing on an airstrip in a nearby paddock, although they also kept a fleet of American cars (Lincoln Continental, Buick and Chevrolet) and had two chauffeurs to drive them over the Rimutaka ranges.
John Foster Dulles and wife with Robert Scotten
The Scottens allowed Fernside to be used for numerous charity events and functions, such as shown in the poster below in 1952.
The Scottens departing from Fernside for the last time.
Later owners
After the Scottens' departure in 1955, the embassy decided to sell Fernside.  It was purchased at auction on impulse by William Marsden, a wealthy Wellington dentist, who used it as a weekend home. It was during his 28-year ownership that the gardens fell into neglect and decay, exacerbated by the Wahine storm of 1967 which blew down walls and numerous trees in the garden and along the mile long driveway. When his nephew, Greg Arnold, inherited the estate in 1983 he was faced with major task of clearing a tangled wilderness of fallen trees, blackberry and gorse, dredging the silted lake, and giving the house a major upgrade. By this time four of the ornamental ponds and statuary had disappeared. Greg left his mark at Fernside by establishing one of the first deer farms in the Wairarapa.
Subsequent purchaser in 1987 was Britt Ryan, an Auckland entrepreneur who invested heavily in the refurbishment of the house and grounds.
In 1991 it was bought by Lola Ivil (widow of Garth Ivil, noted horse trainer) who bought Fernside to cater for weddings and house guests, but found the property too large to maintain easily. In 1994 she sold it on to Bill Garlick, Chief Executive of the New Zealand Olympic and Commonwealth Games Association, who initially ran it as an exclusive B&B Lodge, restaurant and wedding venue. It was during this time that scenes from Lord of the Rings were shot around the lake area.
Following a business collapse, Fernside once more went through a period of neglect. The current owners, Colin and Rosie Bevan, purchased the property in 2007 and have embarked on a program of restoration and renovation and opened up the gardens to visitors in 2014.